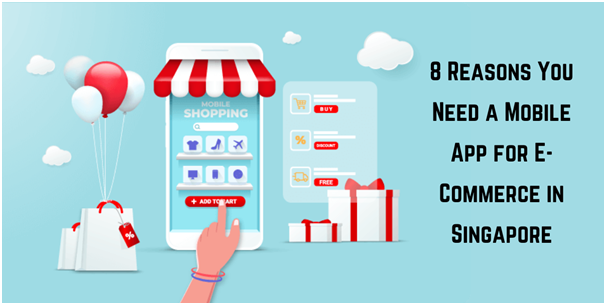 Mobile apps have become more important for businesses to communicate with clients in the ever-changing landscape of e-commerce. A proper E-commerce Website Design in Singapore for your online business is now more than just recommended in the competitive Singaporean e-commerce sector. This in-depth and technical blog explores the eight most persuasive arguments in favour of using a mobile app for e-commerce in Singapore, with backing from extensive study and expert opinion.
Mobile-First Consumer Behaviour:
Smartphone use has skyrocketed in Singapore, and mobile phone use overall has increased dramatically. You may take advantage of customers' increasing preference for mobile shopping by getting a Mobile App Development Company Singapore. Consumers who prefer to shop on the go will appreciate the convenience and immersion provided by shopping apps designed for mobile devices.
Enhanced Performance and Speed:
When compared to mobile-friendly websites, the performance of mobile apps is far better. You may provide quicker load speeds and smoother navigation by taking advantage of the device's natural capabilities and optimising the app's code. Your customers will have a more pleasant and productive shopping experience as a result of the enhanced performance, which translates to lower bounce rates, greater retention of customers, and higher conversion rates.
User Interaction and Customization:
You can give your consumers an individualised service in E-commerce Web Development Singapore by using the powerful customization tools made possible by mobile apps. Provide special deals, tailored content, and product suggestions based on user data, past surfing, and purchasing behaviour. Your e-commerce business will benefit from these individualised interactions since they increase user participation, strengthen customer relationships, and encourage repeat purchases.
Offline Accessibility and Functionality:
Offline functionality and content of the Mobile App Development Agency Singapore enable users to perform tasks like browsing and making purchases even in locations with spotty or no internet service. Providing accessibility to your e-commerce platform even while users are offline increases client convenience and helps you attract more buyers.
Push Notifications and Real-Time Updates:
Push notifications allow you to communicate with your app's users in real-time, delivering timely updates and tailored messaging. Keep your customers in the loop about new releases, special deals, flash specials, and order status updates via proactive communication. Push alerts, when intelligently timed and directed, can boost conversion rates, encourage repeat business, and instill a feeling of urgency in your clientele.
Integration with Third-Party Services:
E-commerce platforms might benefit from mobile apps because of the ease with which they can integrate with other services. Integrating with logistics and shipping companies, for instance, allows you to give customers access to order status updates in real-time. Integration with widely used payment processors guarantees the safety and efficiency of all financial dealings. You may improve your consumers' shopping experiences all around by using these connectors to shorten the buying process and earn their trust.
Optimised User Experience and Increased Conversions
:
There are a plethora of technological benefits to creating mobile applications for e-commerce in Singapore that improve the user experience and boost conversion rates. When a company has its own mobile app, it may take advantage of the user's device's GPS, cameras, & push notifications to create a more streamlined and customised purchasing experience. Precise geolocation enables the delivery of location-based recommendations & regionally relevant advertisements, both of which boost user engagement and ultimately, conversion rates. Integration with device cameras provides barcode scanning & augmented reality (AR) features, enabling buyers to visualise products in real-world contexts, thereby increasing trust in purchase decisions. Improved user engagement, lower cart abandonment costs, & higher conversion rates are all possible thanks to push notifications' ability to provide real-time updates on purchase statuses, personalised offers, and empty cart reminders. Mobile applications can also integrate easy navigation, user-friendly UI/UX design, and streamlined checkout procedures, all of which decrease user frustration and improve customer satisfaction, leading to more repeat sales.
Personalization & Data Analytics Insights:
When it comes to online shopping in Singapore, having a mobile app opens up many doors for data analytics and customization. Businesses may collect and analyse user data for more informed decision making with the use of analytics instruments included right within the app. With the use of advanced analytics, firms can better understand customer habits and tailor their marketing strategies to appeal to specific demographics. By collecting and analysing user data, businesses can better personalise suggestions, promotions, and information for each user based on their interests, location, and previous purchases. Customers are more likely to be loyal, actively participate, and make more purchases after receiving a personalised experience. In addition, mobile apps make A/B testing easy, which helps firms try out various approaches, designs, and functions to increase conversions. In order to increase e-commerce growth in Singapore's highly competitive marketplace, businesses must consistently improve the app's user experience based on data-driven insights.
Conclusion
:
In Singapore's ever-changing e-commerce scene, a mobile app is no longer a nice-to-have; it's a need. The advantages of a mobile app for your online store are manifold, including but not limited to higher mobile commerce acceptance, better search engine optimization, better product presentation, and simpler social sharing. You may get ahead of your competitors, meet the expectations of today's tech-savvy shoppers, and discover new business prospects in Singapore's booming e-commerce sector by adopting mobile technology.