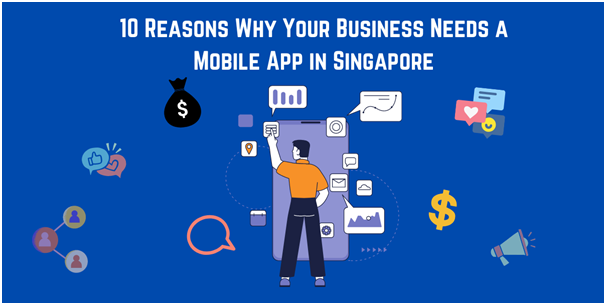 Businesses ought to be flexible and open to new opportunities in order to thrive in today's digital economy. Mobile applications are one such trend that has exploded in popularity in recent years. Since the number of people using smartphones in Singapore is constantly growing, it is crucial for the Mobile App Development Company Singapore to have a mobile app. Based on in-depth research and knowledge from the mobile application industry, this blog post presents ten persuasive arguments for why your Singaporean company requires a mobile app.
Ubiquitous Smartphone Penetration:
A large percentage of the population in Singapore uses cell phones for a wide range of purposes, giving the country a smartphone penetration rate that is among the highest in the world. Hiring an App Development Agency in Singapore for your company allows you to interact with this massive audience in a more direct and meaningful way.
Increased Interaction With Customers:
A smartphone application is a fantastic medium for companies to connect with their clients on a personal level. You can reach your customers where they are, on their devices, with features like push alerts, personalised offers, as well as in-app messaging. Hiring such a Top App Development Company in Singapore increases client pleasure, encourages repeat business, and strengthens brand loyalty.
Enhanced Brand Recognition:
Having a mobile app that is both attractive and functional is a great way to get your name out there. Your app is a continual reminder of your business and the services you provide because it occupies prime real estate on your clients' devices. You may expand your app's reach to discover new clients that are actively looking for solutions by using app store optimisation strategies.
Competitive Advantage:
Gaining an edge over the competition is essential for survival in today's oversaturated market. Getting Custom Mobile App Development Services in Singapore for your business is a great way to show that you care about your customers and are willing to go above and beyond for them. Providing a streamlined and feature-rich app experience is a certain way to win over customers and set yourself apart from the competition.
Simplified Methods of Contact:
By providing both self-service and real-time support, an application for smartphones can completely transform your customer service. Customers can get their questions answered without needing to contact support thanks to tools like in-app chat, frequently asked questions, and an understanding base. In addition to relieving pressure on your support staff, this also improves customer happiness by resolving issues in a timely manner.
Insights from Data:
Businesses may learn a lot about their consumers' tastes, habits, and buying habits through mobile apps. You can improve your app's performance and user experience with the help of analytics tools. You may improve conversions and income by learning more about your customers and responding to their changing requirements with new products, services, and marketing methods.
Integrating E-commerce Seamlessly:
An e-commerce company can promote and sell their goods and services more efficiently and effectively with the help of a mobile app. In-app purchases made possible by mobile apps are both safe and easy for consumers to use. You can increase sales and benefit from the rise of mobile commerce by reducing barriers to purchase and enhancing the user experience.
Marketing Opportunities Based on Locations:
Mobile apps allow you to use location-based services and marketing strategies to provide customers with information that is both relevant to them and their immediate surroundings. You can increase foot traffic to your businesses and the number of people who make a purchase by using proximity-based push notifications, geofencing, and beacons to interact with customers at just the right place and time.
Prepare Your Company for the Future:
Augmented reality (AR), virtual reality (VR), and the Internet of Things (IoT) are all examples of cutting-edge technologies that have the potential to enhance the immersiveness and individualization of mobile app experiences. Your company can stay flexible in the face of shifting consumer tastes and technological developments if you invest in the creation of mobile applications.
Improved User Experience:
When compared to mobile-optimised websites, smartphone applications offer a far improved user experience. Apps provide a seamless and engaging experience for your business because of their user-friendly layouts, streamlined functionality, and rapid page loads. Delivering a streamlined and intuitive experience leaves a positive impression on customers, boosts satisfaction, and encourages repeat visits.
Conclusion:
Finally, it is impossible to exaggerate the value of an application for smartphones for Singaporean companies. The advantages range from better client engagement to capitalising on the rise of smartphone use. Your company may stay ahead of the curve, which is to gain an edge over the competition, and successfully interact with clients in the digital age by adopting a mobile app strategy. An investment in an application for mobile devices, whether you're a small local company or a multinational conglomerate, is a smart choice that pays off in the long run and helps your company thrive in Singapore's competitive market.