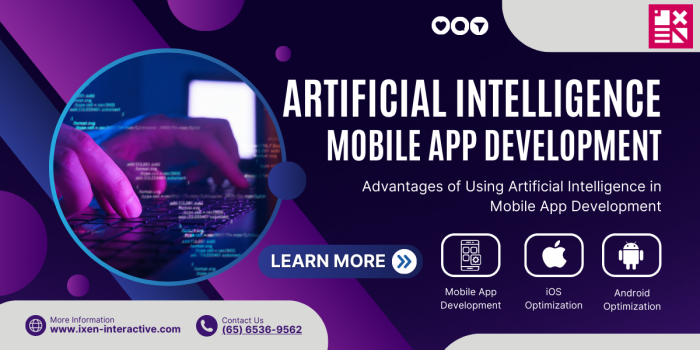 The availability of over five million mobile apps has made it essential for businesses to develop their apps to keep up with fierce competition and continue expanding in the modern market. The use of AI in iOS app development in Singapore has made this a viable alternative, and businesses have begun to favor it. As a result, you'll be able to design superior mobile apps that provide an unforgettable experience for each customer and encourage repeat business.
Let's examine the benefits of artificial intelligence in creating mobile apps.
The Benefits of AI in Mobile App Development
Enhanced Security for Mobile App Logins
The effect of AI on app security and user authentication will grow in the future. This is because malicious actors like hackers can utilise modern technology. Therefore, mobile apps must anticipate potential security issues and take immediate action to eliminate them.
Artificial intelligence (AI) on mobile devices will let the app learn and adapt to users' unique patterns of activity. Artificial intelligence (AI) and related cutting-edge technologies like blockchain and machine learning can mitigate risks and strengthen defences. This makes for a hassle-free authentication procedure and improved use.
It Allows for Robotic Message Responses
Including an automated response system in a mobile app is a breeze with the help of AI. It's a way to facilitate communication between the user and the device.
If you use Gmail, you might have seen that Google has begun implementing this change. A "clever response" in this context. Google's auto-reply technology may decode messages and provide contextually relevant responses when you get them.
Automatic Language Translation Through Mobile Devices using AI
Using AI, you can integrate translators within your mobile apps that can understand natural language. Numerous translation apps are available, but the vast majority of them are not portable. Translators backed by artificial intelligence prove their worth in this context. Your smartphone may be able to translate languages in real-time, even without a web connection.
Using Face ID Increases Safety
Apple introduced facial recognition technology in 2017 with the intention of boosting customer safety and satisfaction. Facial recognition technology has come a long way since its early days when it was sensitive to light and unable to correctly identify someone after an alteration to their appearance (such as adding glasses).
However, the Apple iPhone X now uses an AI-based system for face recognition in addition to Apple's complex hardware. In other words, it's more advanced than before. This means that users can effortlessly access their phones regardless of their appearance.
Improves the Search Experience
Developers are working to enhance the functionality of Android app development in Singapore by using AI & ML-based voice and picture recognition systems. Google Lens, an artificial intelligence-based solution, is already in use. If you've got Google Lens installed on your device, you can just take a picture of an item to learn more about it.
However, while shopping apps like Amazon and video streaming services like Prime Video & Netflix make heavy use of this AI variety, any firm that engages in cross-selling or upselling of media can benefit from using it as well.
Emotion recognition is another fascinating application of AI technology. It employs sophisticated methods of both visual and auditory data interpretation. With the help of advanced facial expression detection technology, it can capture human emotions such as voice intonation and subtle speech cues. Businesses often adopt this technology to enhance their already successful mobile apps. If a user is feeling sad, for instance, this technology may identify that & play a happy song instead of a random one.
It involves enabling apps on mobile devices to utilize deductive and inductive reasoning to address problems like proving theorems and solving puzzles. This is how machines with artificial intelligence can outperform humans in activities like Chess and industries like stock trading.
This functionality is now standard in many popular smartphone apps. One example is the Uber app. It analyses and processes terabytes of information from Uber drivers who travelled comparable routes in the past using logic.
The software will utilise this data to produce forecasts, such as time to location, projected fare, etc., which will ultimately speed up the riders' arrival times. The user's experience will be less jarring and more relaxing thanks to this addition.
Making Chatbots Used by Artificial Intelligence
Most of these apps utilize chatbots driven by artificial intelligence to facilitate communication between users. Mobile app development services in Singapore take on the role of customer service representatives, responding rapidly to user inquiries. These days, organizations regularly include Chatbots in their app development process.
It prevents them from having to spend money on a full-fledged customer support department. To save time, you might have your developers create Chatbots to answer the most common & repetitive questions. Therefore, a human customer service representative is unnecessary to field such inquiries.
Learning Behaviour Patterns
Most AI-enabled apps can analyze a user's past actions and use that information to streamline and improve future interactions.
Snaptravel is one such company. It's like providing hotel booking mobile app development services in Singapore, but with a mix of bots and humans. To have natural-sounding dialogues with consumers depending on their preferences, it combines Natural Language Processing (NLP) & Machine Learning (ML).
You can take over the chat from the bot if it is unable to comprehend and respond to a certain query. They provide feedback to the bot on how to handle similar circumstances in the future.
Conclusion
The aforementioned examples demonstrate how artificial intelligence is transforming typical app interactions. The potential for enhancing user experiences with mobile apps is vast when you add AI features. Additionally, your organization will see substantial financial gains as a result. Three of the most prominent examples are Amazon's Alexa, Google's Assistant, and Apple's Siri.