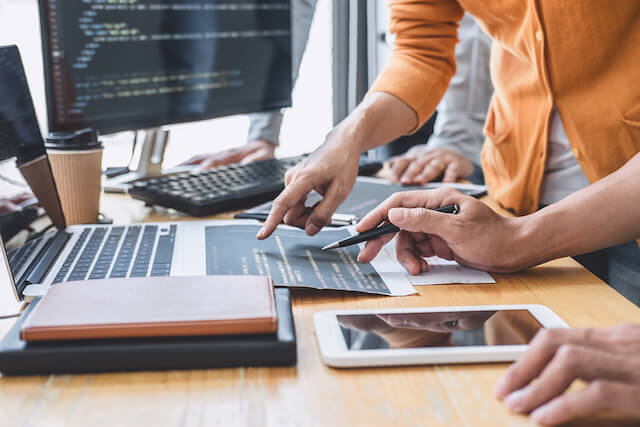 Many businesses have started asking the million-dollar question: "What's next?"
New trends have become more prominent in recent years, such as the latest innovations of mobile apps with Virtual Reality and Augmented Reality. However, as businesses continue to improve ways to reach their target audience, it seems that web development might be the 'Trend to Watch in 2020'.
All eyes are on ecommerce web development and the newer tools to improve a business website. Here are some reasons as to why you should hop on the bandwagon.
Voice Search
Voice search has quickly established itself as an indispensable tool in the average customer's daily life. From Amazon's Alexa to Apple's Siri, consumers have become much more reliant on digital voice assistants. Today's growing catalogue of smart speakers also has integrated voice assistants that learns, adjusts and answers the user's queries.
Website development is no stranger to voice search and its capabilities. It is only a matter of time before seniors and children alike can learn and interact with websites and web applications thanks to the optimization of web search.
Chatbots
Have you ever been to a website and a pop-up appears in the bottom corner? Some of these are integrated chatbots designed for you to click on them! They can answer general questions, link the user to another page or push notifications to the user when they haven't scrolled in a while.
The need for chatbots continues to grow every year, and by 2020, it will reach an all-time high. Why? More and more businesses are starting to see the benefits of having automated chat assistants to engage and interact with their customers.
Single-Page Web Applications
It wasn't that long ago that Single-Page Web Applications (SWA) became one of the easiest ways for businesses to develop websites that were easy for users to navigate. On mobile and desktop, SWA has turned browsing into a simple scroll; removing connection limitations and reloading web pages. The most prominent example is Facebook and Gmail.
Convenient for users, many businesses have started reacting and adjusting accordingly. Because of this, the websites of tomorrow should see the rise of the SWA design, where users can view websites perfectly on mobile, tablets and desktops.
Motion UI
Every user wants to 'feel' when they click or tap something on your website. As part of good ecommerce web development, many websites have started incorporating colours, space, icons and fonts to make the website 'fluid' to use. By 2020, we could see the rise of Motion UI being the go-to design choice for many websites by bringing each element in your website to life. It is no secret that with an attractive website, users are more likely to share – generating traffic which leads to conversion, and eventually, higher revenue and profit.
Unsure where to start with the next step in ecommerce website? Speaking to a Creative Digital Agency can point you in the right direction and get you on the same page with companies that have already implemented this innovation. At IXEN Interactive, it is our pleasure to introduce you to new interactive installations and applications, and how it can improve your business in the right way. Through creative and innovative solutions, we are here to meet your needs so that you can integrate the newest trends in 2020 for your business.
With many businesses picking up new ways of ecommerce website – you can also discover companies that are already implementing these types of advancements and technologies in their current projects. Learning from your competition and seeing how they integrate it and make it better for your own business is another way of taking advantage of such technologies.