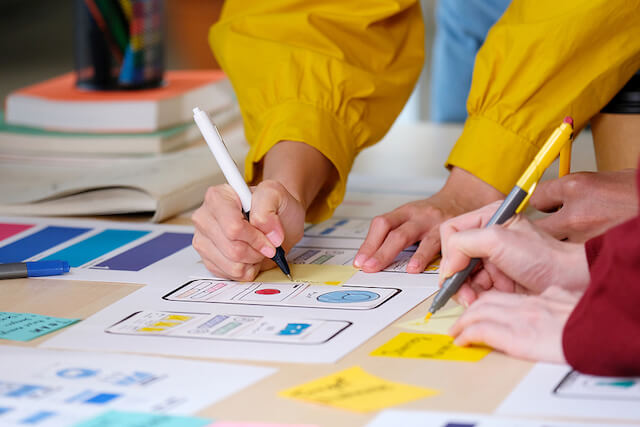 You might wonder how the mobile app can be crucial to the success of your business. When you hire an agency for mobile app development services, it can elevate your business to be in a position where you can take advantage of numerous opportunities – including reaching out to a much wider audience via numerous means.
If you are looking to dip your toes into it, here are 4 ways your business can grow with the help of mobile app development services.
1. A significant boost in customer engagement
Engaging customers is the key to sustained growth, and the best way to engage your audience is to be where they are at.
Majority of consumers today have smartphones with them at all times. Having a mobile app allows your business to tap into that opportunity. They will be able to appreciate just how accessible your business is, since they access all the information they need via a few taps of their fingertips. No more fuss about having to do a search online!
You can also link your social media accounts to market your business and encourage greater engagement with your customers online.
2. Increased brand visibility and awareness
Brand visibility plays a crucial role in helping your business grow and become successful. As more and more people spend time on their smartphones every day, launching a mobile app can help to boost your brand and your business further.
If designed properly, a mobile app can help your business stay on top of your customer's minds, similar to how billboards work. The only difference is that mobile apps are far cheaper, arguably have a further reach, and help you stay better connected to them through their smartphone.
3. Direct marketing channel
Marketing is one of the main purposes of having a mobile app.
For example, a mobile app can act as both an online store and information hub for your business. It also provides a platform to promote offers and sales to your customers in a quick and efficient manner, unlike emails and social media posts where they may soon forget. For example, after shifting their business model greatly, Domino's Pizza's mobile app contributed up to half of their total online sales in 2015, making mobile app marketing a success.
4. Adds business value
A business becomes more valuable when it has a platform that has direct access to its consumers.
Whether it functions as an online store, information hub, or marketing channel, a mobile app adds a lot more weight to your business and your brand. Not to mention, mobile apps can make your business more valuable by being able to promote referral programs and loyalty systems that make users aware of your brand. They would also be more likely to refer it to their friends, family or loved ones easily.
Mobile apps can provide both short-term and long-term benefits to any business. It is only a matter of time before mobile apps become the standard in the trade. If you own a business, be it small or big, failing to recognise the importance of having a mobile app will hinder the current performance and future growth of your business.
If you are ready to get started and investing in mobile app development services, our team at IXEN Interactive is ready to bring the next level of growth to your business. Not only are we a digital creative agency that also aids businesses in website design, but we also offer development services of high-performing mobile apps so that your business can make the leap and reach a wider audience.
Contact us for a consultation and let us help your business grow with the benefits of a mobile app!