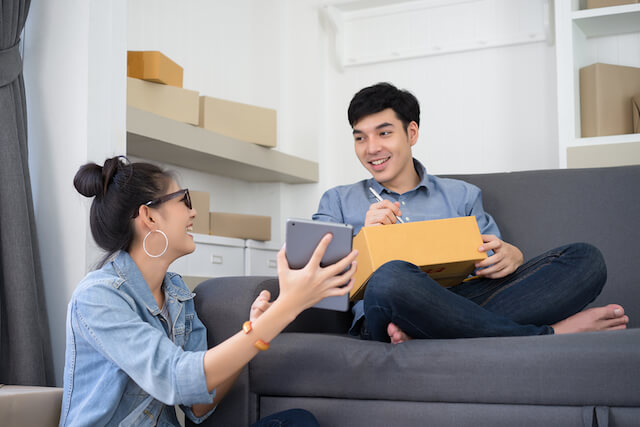 It's true.
Most small business owners tend to shy away from the thought of investing in a mobile app. What was once thought of as "expensive" and "unnecessary" is slowly becoming essential to the growth of a brand and business.
And since less than half of small businesses currently own a mobile app – it is easier for you to enter and beat the competition today. In fact, developing a mobile app does not have to take a huge chunk out of your budget – instead, it can help to bring in profits in the form of new customers and sales.
Below are 4 reasons why investing in mobile apps is a good idea, even for small businesses!
1. Higher customer engagement rates.
The problem with being a small business is that it's easy to get drowned out by the bigger competitors in the market. However, having your very own mobile app arms you with an alternative channel which you can use to continuously engage with both new and existing consumers.
A mobile app works for you 24/7 – so you can send notifications and reminders to your customers to keep them interested in what you have to offer. It is also a great platform for customers to give you valuable feedback and seek out customer service in order to earn their loyalty.
2. It creates a personalized and exclusive marketing channel.
Speaking of push notifications, using a mobile app is an excellent way to personalize any and all means of communication with consumers.
Not only can you develop customized messages for each particular user, but you can also now use the mobile app to engage with them in real-time. Using AI can also help support a growing business that can help streamline the interaction process.
3. Improve customer retention and loyalty.
By personalizing your means of communication with your customers through a mobile app, you help creates a genuine connection with users that isn't always easy to achieve online.
In addition, you can also incentivize customers to purchase products and services by launching loyalty programs that are exclusive to the app only.
Using your app analytics, you can easily track the users who are engaging with your mobile app the most and create rewards specially for them. Statistics show that businesses see an average increase of 20% in sales when using personalized experiences – so make sure that you tailor as many touchpoints on your app to each individual customer!
4. Everybody is on mobile.
The number of smartphone users worldwide is projected to reach 2.87 billion this year, and a good 62% of users will access the internet via their phones.
It is no longer enough to just invest in ecommerce web development – mobile phones have become such a huge part of our lives that it's only natural for businesses to start shifting towards tools that are perfectly designed for this medium – and that includes mobile apps.
If you have yet to develop your mobile app, perhaps it is time to start engaging a mobile application development company such as IXEN Interactive to help you create a high-performing mobile app for your business.
Using a simple, 5-step app development process – we will work with you to understand your objectives and together with our team of expert developers, customize a unique solution for you to help you stand out from your toughest competitors!
Contact us today if you wish to learn more about our mobile app development services and let us help you take your business to the next level!